One of the most exciting developments in large event displays is the usage of mobile LED screens for events. This technology has revolutionized how events are put on and what visuals can be presented to guests. The way that this technology works is quite fascinating and can be broken down into components and processes. But before diving in, let's talk a little more about what a mobile LED Display Screen is. 
What is a Mobile LED Display Screen?
A mobile LED screen is a large, portable display that uses light-emitting diodes (LEDs) to create an image. Mobile LED screens are commonly used for outdoor events, such as concerts, sporting events and games, and corporate functions. They are a great way to display advertisements or acknowledge sponsors at events and other information when you need a large-scale visual presentation.
A mobile LED screen is a complex piece of technology that relies on a combination of hardware and software to create high-quality, full-color displays with lifelike clarity.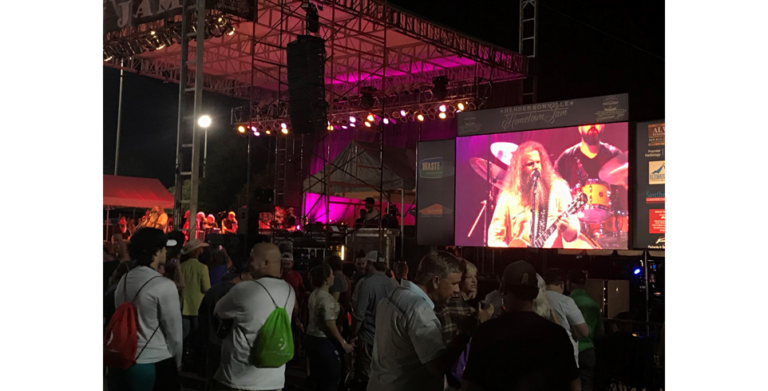 4 facts about how LED display screens work
1. At the heart of a mobile LED screen is a grid of tiny LED pixels. Each pixel is made up of three primary-color LEDs (red, green, and blue) that can be individually controlled to create a wide range of colors. By rapidly changing the intensity of each LED, the screen can produce a wide range of shades and hues, creating a high-resolution, full-color image.
The pixels are arranged in a matrix on the screen, with each pixel being connected to a row and column of the matrix. This allows the screen to be divided into smaller sections, or "tiles," which can be independently controlled. This allows the screen to be easily scaled to any size, from small displays to massive screens covering entire walls or buildings.
A mobile LED screen consists of three main parts: 
a display panel

a processor, and

a power supply unit
The display panel is made up of several individual LED lights that together make up one image across the entire surface area. The processor then takes in signals from other sources—such as media players or computers—and uses them to control what is displayed on the LEDs within each frame. 
Finally, the power supply unit ensures all other parts are properly supplied with electric current so that they function properly and efficiently.
2. To transmit the video signal to the mobile LED screen, the screen must be connected to a video source. This is typically done using either HDMI or SDI inputs. HDMI (High-Definition Multimedia Interface) is a widely-used digital interface for transmitting video and audio signals. It is commonly used for connecting devices such as Blu-ray players, game consoles, and laptops to TVs and other displays.
3. SDI (Serial Digital Interface) is a professional video standard that is commonly used for broadcasting and other high-quality video applications. It can transmit video at higher resolutions and frame rates than HDMI, making it ideal for applications where image quality is critical.
The screen must have the appropriate input ports to connect the mobile LED screen to a video source using HDMI or SDI. These ports are typically located on the back of the screen, along with other connectivity options such as power and control ports. Once the screen is connected to the video source, the video signal can be transmitted to the screen, allowing it to display the image.
4. The screen must be connected to a controller to control the screen and manage the video signal. This is typically a specialized computer or dedicated hardware device that is connected to the screen using a control port. The controller receives the video signal from the source and processes it, converting it into a format the screen can understand.
The controller also sends commands to the screen, telling it how to display the image. This includes things such as the position and size of the image on the screen, the color and intensity of the LEDs, and other settings such as brightness and contrast. The controller is also responsible for managing the overall operation of the screen, including things such as power management and diagnostics.
Attending events has never been the same since mobile LED screens have become expected fixtures at conferences, concerts, and trade shows. Not only do they offer an unprecedented level of customization and design, but they also deliver stunningly vivid visuals that more traditional mediums can't replicate.
At Outdoor LED rentals, we have the best conversion technology in mobile LED screens for outdoor events. Event planners, tradeshow contractors, and sports organizations can enjoy cutting-edge LED technology through our services. Once we set up the screen(s), our onsite technician takes care of all the technical aspects and manages the breakdown when the event is over. This allows you to relax and focus on other important things.
Are you ready to make your next event a standout? Contact Outdoor LED today to discuss your next event and how our mobile LED screen solutions can help to make your event better than imagined.